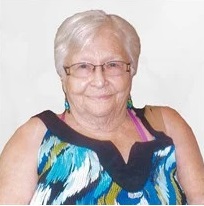 NELDA MARIE PITCOCK
Born: April 8th, 1930
Died: September 11th, 2023
Obituary
GREENFIELD – Nelda Marie (Anderson) Pitcock, age 93, of Greenfield, passed away Monday, September 11, 2023, at SouthPointe Healthcare Center. She was born in Willow Shade, Kentucky on April 8, 1930, to Charlie J. and Nellie Mae (Muse) Anderson. Nelda married Orvel Kenneth Pitcock on November 6, 1946 in Glass County, Kentucky.
She was a homemaker and was an assistant housekeeper at Ramanda Inn in Indianapolis for many years. Nelda enjoyed sewing, crafting, ceramics, and making baby blankets. She cherished spending time with her family and loved large family gatherings. She most of all loved Christmas.
Nelda is survived by her sons, Kent Pitcock, Jackie Pitcock, and Michael Pitcock; daughters, Brenda Lewis and Donna Cunningham; 16 grandchildren; 24 great-grandchildren; 8 great-great-grandchildren; and many nieces and nephews. She was preceded in death by her husband, Orvel Kenneth Pitcock; parents, Charlie and Nellie Anderson; son, Gary Pitcock; sister, Mary Anderson; brother, Arlie Anderson; and many nieces and nephews.
Visitation will be held on Tuesday, September 19, 2023, from 11:00 a.m. until 1:00 p.m. at The Church of Jesus Christ of Latter-day Saints, 11220 E. 30th Street, Indianapolis, IN 46229. A funeral service will take place immediately following the visitation at 1:00 p.m. Burial will follow at Gravel Lawn Cemetery in Fortville.