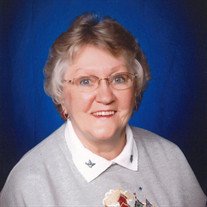 SHARON BODEN
Born: November 1st, 1939
Died: November 15th, 2020
Obituary
Obituary for Sharon Boden
GREENFIELD – On November 15, 2020, heaven welcomed another angel, Sharon Rose "Bosey" (Gibson) Boden, 81, and reunited her for eternity with the love of her life, her husband of 64 years, Richard A. Boden. She was born in Anderson, Indiana on November 1, 1939 to Paul Alonzo and Phyllis Kathryn (Goul) Gibson. Sharon married Richard Arlan Boden on December 29, 1956 in Eden, Indiana.
She worked for various doctors and medical offices in the area as a medical assistant and receptionist for over 35 years before retiring. Sharon was a member of the Greenfield Elks Club and Greenfield Country Club. She was a former cheerleader at Fortville High School. Sharon loved going to the casino, traveling in first class, and spending time with her family.
Sharon is survived by her children, Robin Boden Edwards of Mandeville, LA, Brian Boden of Chicago, IL, and Brad Boden, wife Erika of Honolulu, HI; honorary PR son, Nestor A. Garces; grandchildren, Matthew and Kathryn Edwards and Ian and Nicholas Boden; brothers, Rex Gibson, wife Phyllis of Greenfield; sister, Caroline Brown of Anderson; sister-in-law, Donette Gibson of Fortville; grand dogs, Scooter, Bodie, Spencer, Skylar, Molly, Nala and Momo; and grand cat, Buddy. She was preceded in death by her parents; husband, Richard Boden; and a brother, Steven Gibson. She loved them all dearly. Her family will miss her and carry her in their hearts forever.
Visitation will be held on Friday, November 20, 2020, from 10:00 a.m. until 12:00 p.m. at Erlewein Mortuary & Crematory, 1484 W. US Hwy. 40, Greenfield, IN 46140. A graveside service will be held following the visitation, beginning at 2:00 p.m. at Gravel Lawn Cemetery in Fortville. Chaplain Saundra Box will be officiating. As a reminder, the government mandate requires guests to wear masks when inside our building. We are limited to a capacity of 50 guests at a time and please practice social distancing.